Steven Moffat's Doctor Who is just 18 days away, but 15,000 days in the making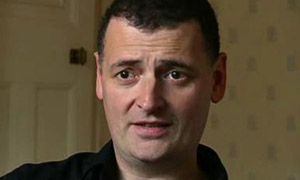 AS always with Doctor Who, time is of the essence and as I write this it is 18 days until April 3 2010 when the Gallifrey locum returns to our screens again, which I imagine will seem like forever.
But did you know when new Who airs, it will have been exactly 928 days since Steven Moffat first got his feet under the table and agreed to take Who on in 2007, or rather 15,000 or so days since the mid-1960s when wee Steven first saw it and was transfixed?
Here's the timeline towards what I hope and expect will be a triumph.
July 19 2007: Steven Moffat and Russell T Davies discuss him taking over Doctor Who for the first time, in an e-mail exchange. Moffat says: "It's not only a dream job, it's my specific dream job since I was about seven."
September 3 2007: RTD works out David Tennant's last words as the Doctor, a whopping 27 months before he says them to us.
September 28 2007,: The Moff turns his back on Hollywood and confirms he is in and – I like to think – his mind immediately starts to form beautiful and engaging Who-shaped ideas that shine like diamonds. Space diamonds.
December 12 2007:  The Moff admits he has worked out his first episode in an email to RTD. 'It's good, honest!' he says. More than two years ago!
December 19 2007: The once and future Who runners meet for coffee in London to discuss the handover and a young lad called Karim gets a picture of them. What would that be worth now?
RTD describes the meeting as: "If anything I felt a good old fanboy thrill down my spine, because Steven talked about the future in terms of  … well, to the extent that I said 'Don't tell me any more!'. I want to find out as a viewer."
January 2009: Matt Smith is announced as the new Doctor, throwing a curveball to everyone – me included – who expected an older character.
May 22 2009: David Tennant bows out as the Doctor after his last day of filming (You two, with me, spit -spot!), ending what has been a golden age for TV sci-fi fans. But as one age ends …
January 1 2010: David Tennant's last episode is broadcast. "I don't want to go," he says, which always brings a tear to the eye.
Which brings us back to April 3 2010. As I said at the beginning, it has been a journey which me picking through The Writer's Tale has helped to illustrate.
However, there is still a gap made of – I hope – magic and stardust and 15,000 days of dreams and imagination between December 2007 and January 2009, when the Moff was crafting his creation with infinite care, just like he always has.
In the new series – as we're counting number five or number one or number 33  (hey, even episode 757 if you want to be really exact) – he has put that time to good use by crafting six episodes and overseeing the rest.
Watching his last bit of Who work – the two-parter Shadows in the Library and Forest of the Dead – was further proof, not that it was needed, that we're in for a treat.
Here's to April 3 2010 and to 15,000 days well spent.
Related articles by Zemanta