The debt we all owe Hugo Gernsback
EVERYONE knows what science fiction is, but do you know where the term first came from?
With a smug grin, I can proudly say I do, thanks to a remarkable discovery made in the most unlikely of places.
On a recent break in the north east with my wife, we chanced across the sort of dusty old bookshop I have always dreamed about owning. After having a brief look around, there didn't seem anything to catch the eye …until I saw the sign.
Science fiction books – up path and first on the left.
The fact the bookshop had a path was a delight in itself, but after making my way up it I found nirvana.
Shelf after shelf of sci-fi stories, dating from decades ago. I lost track of time and Pam lost track of me, resorting to walking up and down the street outside.
However one magnificently old fashioned title stood out – A Pictorial History of Science Fiction, compiled by David Kyle in 1976.
As you can see from the pictures here, it was filled with fantastic examples of the early sf pulp fiction magazines and books, as well as an incredibly detailed history of the genre, adventurously stretching back as far as Homer's Odyssey.
The genre only really exploded around the middle of the 19th century, when men like Edgar Allen Poe, Jules Verne, then later HG Wells and Edgar Rice Burroughs – along with countless others – put pen to paper on some of the greatest stories ever told.
The verve and daring of these wordsmiths caught the attention of a man called Hugo Gernsback. Never heard of him?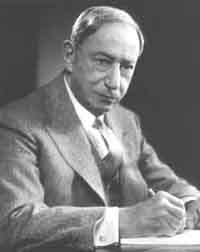 I hadn't either, but this native of Luxembourg (of all places!) travelled to America and worked in the fledgling electrical goods industry, in 1905 designing and manufacturing the first mass-produced home radio set – the Telimco Wireless, a transmitter and a receiver for just $7.50.
It was in 1926 that his lightning bolt moment occurred – when he set up a science fiction magazine called Amazing Stories.
Writing in that first edition, which was a massive success, he invented the phrase scientifiction, as a contraction of scientific and fiction, deliberately designed to be a description of the unique material his magazine would cover.
He defined scientifiction as 'the Jules Verne, HG Wells, and Edgar Allen Poe type of story – a charming romance intermingled with scientific fact and prophetic vision'.
A bit wordy I know, but they must have been fantastically exciting times and I can't help but envy Hugo.
Now even the boldest and far thinking sci-fi struggles for true originality, but the writers who featured in Amazing Stories were blazing a trail into uncharted territory with such success that a great many of their ideas are now staples of the genre.
I can safely say I will never get tired of reading and re-reading this book.
And although his name has largely faded into history, barring the Hugo awards, and he was forced out of the publishing business by rivals, I will also offer my thanks to Hugo Gernsback, a true visionary.